Token2 OTP Hardware tokens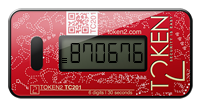 HOTP/TOTP-based two-factor authentication involves generating a temporary, unique passcode that only works for 30 seconds. After generating the passcode, a user must type it in manually to authenticate for access. The most secure method of generating OTP codes is using standalone hardware tokens.
All Token2 hardware tokens are designed as a drop-in replacement of Google Authenticator (and similar applications). Additionally, our hardware tokens can be easily cloned to software tokens by using a special QR code containing the seeds of the hardware tokens.
Token2 provides different types of OATH compliant TOTP tokens. Each device has a unique serial number to identify the hardware token. Seeds associated with the respective serial numbers are sent separately after the delivery is confirmed by the customer. Additionally, an online tool to generate QR codes from the hardware token seeds will allow cloning them to software token mobile applications.
---
Token2 hardware tokens are OATH compliant and can be used with any authentication system supporting HOTP-TOTP standard. Both Token2
Cloud API
as well as
TOTPRadius
can be used with these time-based hardware token devices that comply with OATH specifications, so it can be used with any other authentication server which is built according to these specifications. We offer 2 types of hardware tokens:
dongle
(keyfob) and
wallet card
(credit card) format. You can view and compare technical specifications of our hardware tokens on our
product comparison
page.
---

Classic tokens &nbsp Programmable tokens


---
---
We will be happy to provide assistance with configuring your systems to work with Token2 API and/or any authentication server to work with our tokens.