This topic describes how to enable a multi-factor authentication (MFA) for your Alibaba Cloud account with Token2 programmable hardware tokens. After an MFA device is enabled, it provides additional security protection for your Alibaba Cloud account.
Requirements:
An AlibabaCloud account
A Token2 programmable token (only the second generation tokens are compatible with Epic accounts)
An Android device with NFC* - this is needed for the enrollment only, subsequent logins will only require the hardware token
TOKEN2 NFC Burner app* - make sure you have the latest version (at least 2.1). Previous versions of the app do not support longer seeds generated by Alibaba account 2FA system
[* Windows version is also available, but this guide will use Android as an example]
To enable two-factor authentication on AlibabaCloud:
Have your Android device with NFC and TOKEN2 NFC Burner 2 app installed and your hardware token ready
On your desktop browser, log on to the Alibaba Cloud console.
Move the pointer over the account icon and click Security Settings.
In the Account Protection section, click Edit.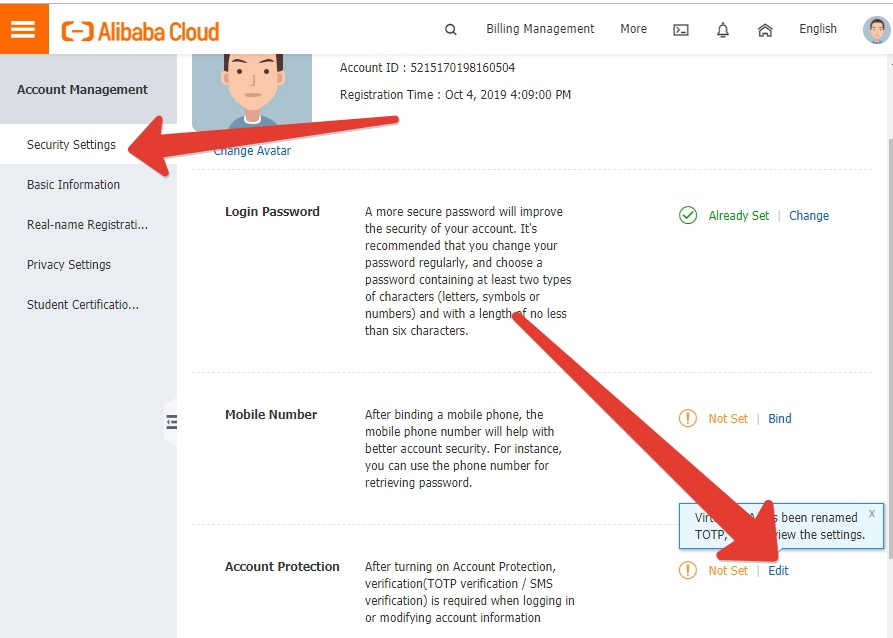 On the displayed page, select a scenario (we suggest selecting both Log In and Modify) and select TOTP.







On the next screen click Next to start the procedure (Note: if this is the first time you modify your MFA settings, the system will ask you to verify your email again)



On the next page, you will see the QR code that you will have to use to burn your Token2 hardware token


Launch the TOKEN2 NFC Burner app on your Android device and hit QR button





Point the camera to the QR code shown on the AliBaba Cloud account page. Upon a successful QR scan, the camera window should disappear.
Turn on the TOKEN2 token and touch it with your phone (make sure it is overlapped by the NFC antenna) and click "Connect" on the app
Upon successful connection, click the "Burn seed" button. If NFC link is established and the code is correctly scanned, you should see a status window showing "Burning..." and eventually (in a second or two), "burn seed successful.." message in the log window









After completing the burning process, turn the token display off and turn it on again
Enter the 6 digits code displayed by the token to the "6 digits" field on the AlibabaCloud account page and click Next






Upon successful code verification, the following window should appear, which completes the enrollment process