Using Token2 FIDO2 Keys with Boursorama Banque Client Area

en français

While FIDO2 is the only phishing-resistant authentication technology, the banking industry is yet to fully adopt it for providing secure access to online banking interfaces. Currently (August 2022), there are only 2 banks in the world proposing FIDO2 keys as the authentication method. One of them, the French Boursorama Banque offers you easier access to your accounts while increasing the level of security thanks to FIDO2's WebAuthN protocol.
This system recognized and supported by FIDO alliance allows you to connect to your Customer Space from a desktop computer or mobile web browser, using a different authentication factor thanks to security keys integrated into your trusted devices, in replacing your Boursorama Banque password.
Depending on the device used, you may be offered several authentication factors in addition to the FIDO2 Key itself :

- PIN Code (USB and NFC models)
- Fingerprint (T2F2-Bio and T2F2-Bio2 models)
In this guide, we will show the steps required to enroll your Token2 FIDO2 key to your Boursorama Banque account settings.
Prerequisites
- A Boursorama Banque account
- A Token2 FIDO2 Security key with an activated PIN code or Fingerprint enrolled
Enrollment
Warning: to enroll a security key, your internet browser and your device/operating must be compatible. In particular, your device must have an integrated authentication system (Windows 10 Hello, Android 7+, MacOS & iOS 14+ versions) supporting the WebAuthN protocol. Refer to this article to check the compatibility.

To enroll a security key, go to the "My profile" ("Mon profil") - "My security keys" (""Mes clés de sécurité"") section of your Customer Area.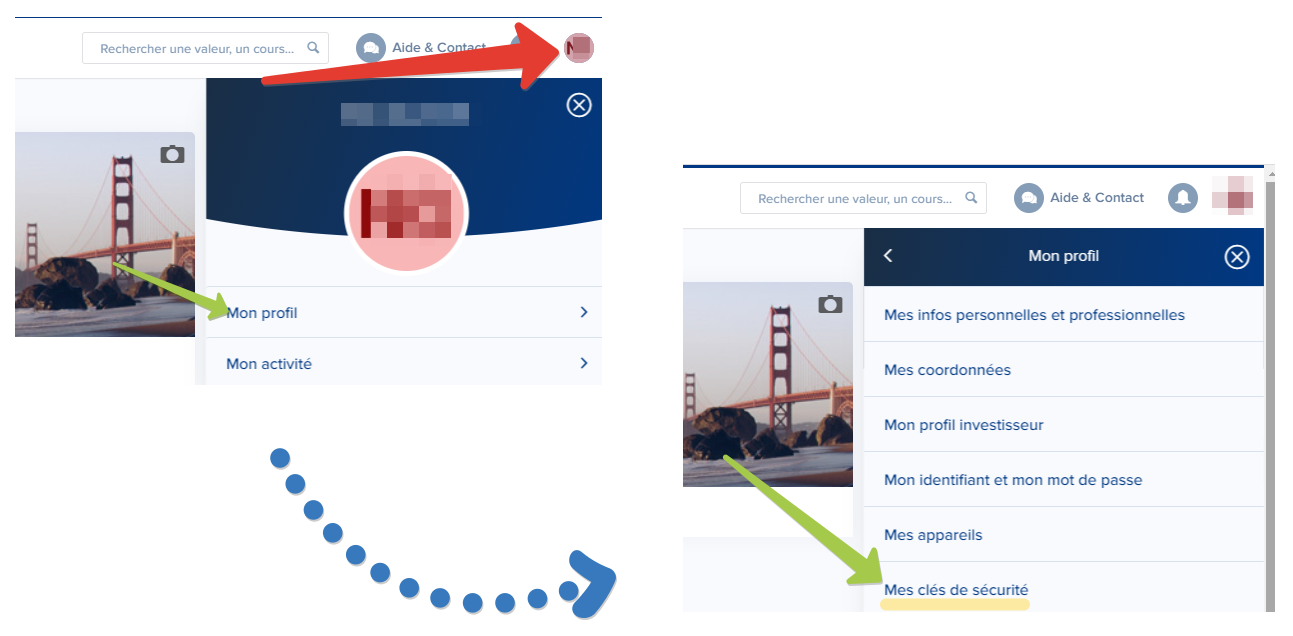 Then, click on "Add a device" ("Ajouter un appareil"):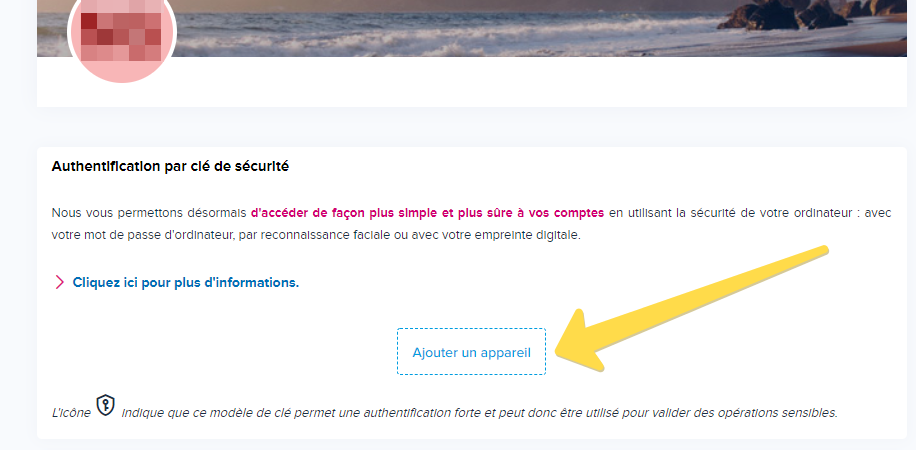 On the next window, use the "J'utilise un périphérique Fido (avancé)" ("I use a FIDO device (advanced)") instead of the default option "J'utilise la connexion de mon ordinateur" ("I am using my computer's connection"). The default option is using the built-in security chip of your workstation. This method can also be used, but only in combination with FIDO2 keys enrolled, as a backup.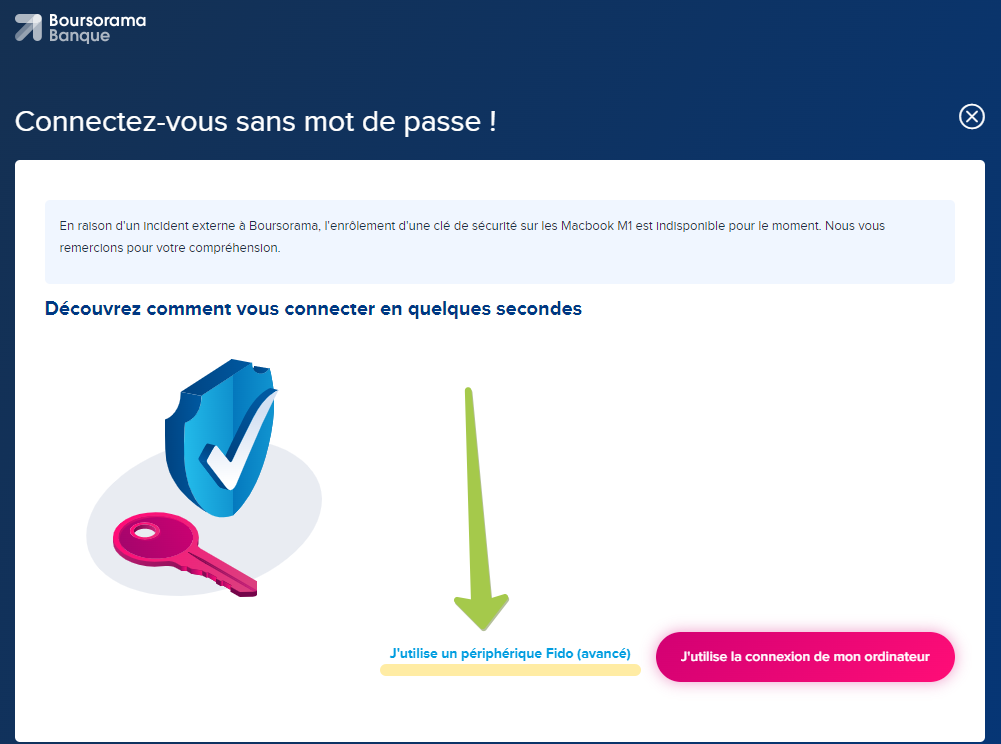 On the next step, the browser will promt to plug your FIDO2 Security key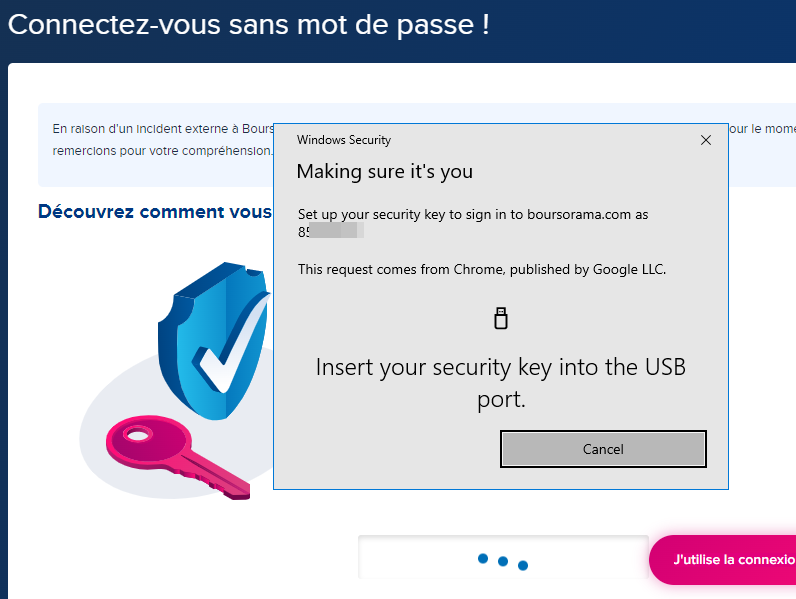 Once you plug the key and follow the instructions (the system will ask you to provide a PIN or your fingerprint, and/or press the button on the security key), the enrollment will be completed. You will receive an email from Boursorama confirming the successful operation.
The enrolled security keys will appear in the list, similar to the screenshot below.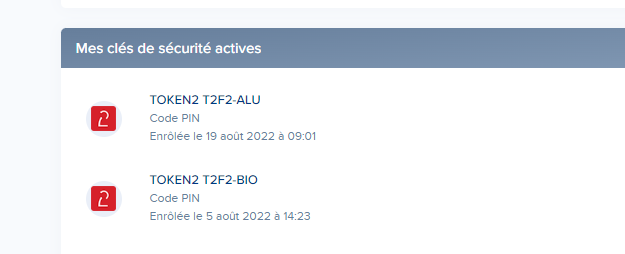 You can click on the security key's name and rename it to correct the model (by default, they may appear as T2F2-ALU ).
Subscribe to our mailing list
Want to keep up-to-date with the latest Token2 news, projects and events? Join our mailing list!