Tokens pour le login de Meraki

Meraki propose une fonctionnalité d'authentification a deux facteurs (A2F). En plus de la connexion sécurisé par SMS, il y'a la connexion par Google authentificator (qui peut être remplacer par notre token Mini-OTP1). This service is useful because it can provide two-factor authentication regardless of SMS service.
Veuillez noter que ce guide est exclusivement pour le tableau de bord Meraki et ne marche pas pour l'A2F de Meraki Client VPN, Meraki client VPN de base n'utilise pas d'A2F. L'A2F pour le Meraki client VPN peut être mis en place en intégrant notre solution TOTPRadius, qui support aussi les token classique.
Installez l'application mobile Token2 Burner et vérifier que votre token est accessible par NFC.
Sur votre appareil Androïde, installer et tester Token2 Burner. Vous pouvez vérifier le NFC en appuyant sur get OTP sur l'app appuyer sur le bouton du token tout en le collant a l'appareil, Puis sur l'app mobile, appuyer sur get OTP. Le code afficher sur votre appareil devra être identique sur votre token.
Connecter vous a votre tableau de bord Meraki et allez sous la page « mon profile » en haut à droite.

Trouvez la page nommer « Authentification SMS » et sélectionner l'hyperlink approprié dans la liste. Le code QR afficher est le même pour Androïde et Iphone(Nous n'avons pas tester avec les Blackberry).

Lancez l'app Token2 Burner sur votre appareil Androïde. Appuyer sur Scan QR et scanner le QR afficher sur votre page Meraki. Ensuite, appuyer sur le bouton du token et coller Le à votre appareil Androïde. Appuyer sur « Burn Seed ». L'app devrait afficher "Burn seed process succeeded" si tout a été valider.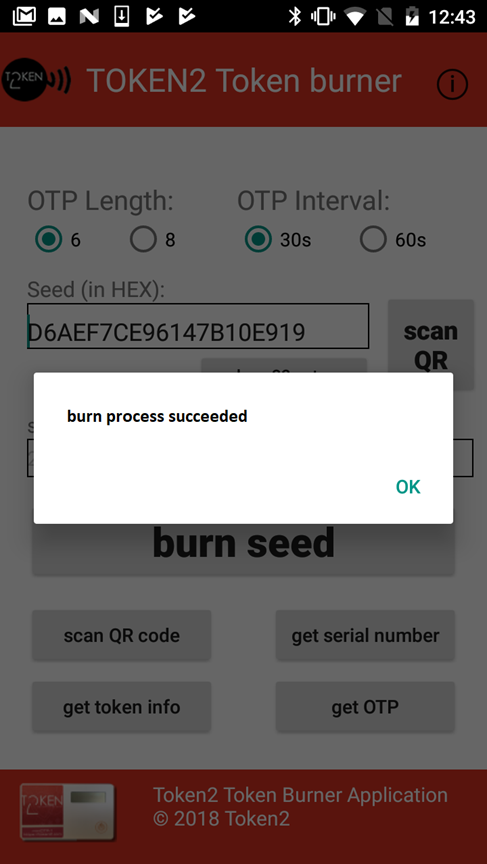 Dans le tableau de bord, entrer le code généré par votre token (appuyer sur le bouton du token) dans le champ 3 : « Vérifier votre appareil », puis cliquez sur vérifier.
Une fois vérifier, cliquez sur continuer puis sur OK pour activer l'A2F.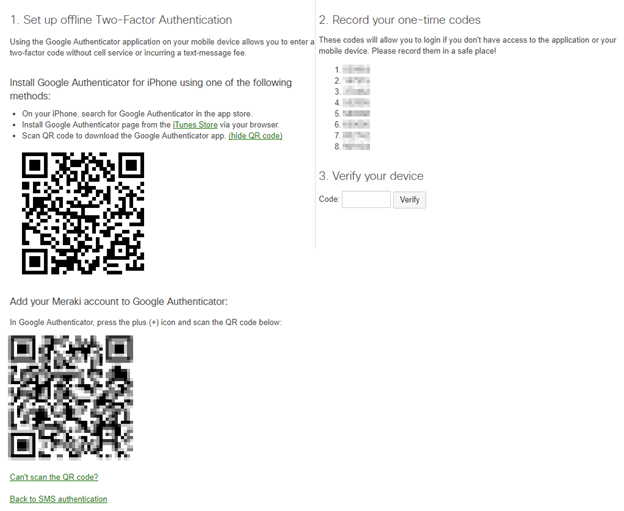 Meraki affichera 8 codes d'urgence. Ces codes seront seulement affichés 1 seule fois, soyez sûr de les notez quelque part de sécuriser. Si votre token se casse ou se fait voler, vous pouvez utiliser ces codes (qu'une seule fois chacun) pour vous connecter à votre compte pour désactiver la connexion par token. Si vous perdez ces codes, vous pouvez toujours en régénérer depuis les options D'A2F.
Subscribe to our mailing list
Want to keep up-to-date with the latest Token2 news, projects and events? Join our mailing list!