10 x Token2 C301-i TOTP hardware tokens
---
NFC programmable hardware token in a classic keyfob/dongle format than can be programmed using our burner apps available for Android, iPhone or Windows
Please note that C301 is being retired and replaced by C301-i
C301-i can be programmed using a special burner app (TOKEN2 NFC Burner), and different from other models, in addition to Android and Windows applications, C301-i can be programmed using an iPhone (>iOS13, tested with iPhone 7 and above). C301-i is an iOS-compatible version of C301, so all other specifications are exactly the same.
Specifications:
---
Built-in Button, 6 Character LCD Screen
Security Algorithm: TOTP
OTP Length: 6 digits
OTP Time interval: 30 seconds
Hash algorithm: sha1 (default) or sha256 (set using NFC burner)
Dimensions: 49.8 x 26 x 8.25mm
Water & dust resistance: IP67
Operating Temperature: 0°C .. 50°C
Tamper Evident / Tamper Protection
Battery Type: Lithium Magnesium
Battery Lifetime: 5-6 Years (depending on usage)
Programmable: Yes [ ]
Time sync: Yes [restricted: setting time will clear the seed]
---
Note: programmable tokens have no animated timer indicator (ticker) and automatic OTP refresh (the screen just turns off after 30 seconds - configurable). These features have been disabled in order to increase battery life.
---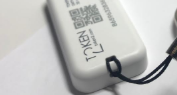 You can attach this token to a keyring with an additional accessory, a rope loop, which is included for free with every token ordered
read more...
Please check product and platform compatibility before placing an order
All pictures shown are for illustration purpose only. Actual product may slightly vary due to product enhancement or other reasons.
The price displayed on this page includes the cost of the hardware, license fees as well as support during the warranty period of each hardware token. Detailed repartition of costs will be shown on the final invoice.